The Samsung Xpress M2070FW Review - Printers for Small Business & Home Owners
The Xpress M2070FW is an excellent multifunction printer which is designed by Samsung and it will be a great choice for many purposes like home office, or if you are running a home business or own small business with several employees. This reliable printer can help you to communicate with colleagues and clients, prepare all presentations you needs and produces high-quality copies with no time. It's been packed with four different machines that will make you love it because operational costs can be reduced.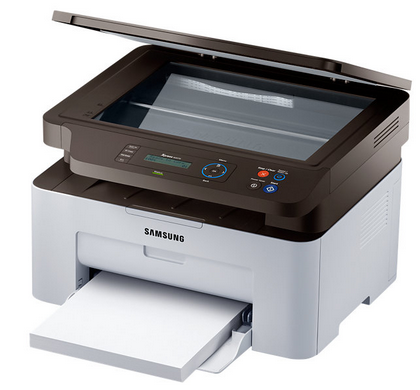 The M2070FW comes with special application called "Samsung Mobile Print" where after you download and install it on your device, all (print, scan, and fax) you can do directly from your mobile devices without having to use additional driver or router or configure complicated network settings. This app is available for free for Android & iOS devices.
It also supports Google Cloud Printing, let you print documents from anywhere you want.. It simple, just connect the Xpress M2070FW to your Google Cloud Print account and start printing any documents from your phones wherever you are now. It is compatible with various smartphones, tablets, Chromebooks, Laptops, PC or Notebooks, etc. It is also possible to share your printer to someone else. The M2070FW also features NFC printing, this technology as we might already know uses wireless network that can make your mobile device connect and communicate with the printer.
The M2070FW work fast, thanks to its 600 MHz processor and paired with 128 MB of memory. The speed of print documents that hits 21 pages per minutes make it also ideal for busy office environment too. It also has WPS button so connection between router and your printer will be faster and automatically configured.
Easy Printer Manager allow your business or companies to control all settings remotely so the operations of your business can run smoothly. All status from printer status, error messeges can be controlled easily. Meanwhile, if you want to make documents in a variety of formats, you can use its Easy Document Creator feature.. Once the documents successfully created, then you can share it with your friends, families via email or faxy or you can do so via Social Networks, Facebook, Twitter, etc.
Click here if you are searching for the best home printers 2016 on the market